Migrations, Integration and Co-Development in Europe
Europe for Citizens
2014-2695/001-001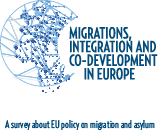 Migration is increasingly coming into sharp focus on the European and global agenda. However, the EU is currently a long way away from adopting so-called common policies and the achievements to date have not been sufficient. in the last years the legitimacy of European policies on migration and asylum have been questioned, thus emphasizing the need for an increased engagement by Member States in redesigning new strategies in order to strengthen cooperation and more synergic approaches. The challenge of developing a common European immigration policy, integration and asylum policy is a hot political topic in the civil society agenda. There is an urgent need to provide a flexible framework that takes into account European Union countries' particular situations, particularly on the:
integrated border management;
entry, residence conditions and human rights protection of refugees, asylum seekers, migrants;
a consistent policy for fighting illegal immigration and trafficking in human beings;
investments in integration strategies for the inclusive growth of migrants in the European Society.
Target groups
Representatives, project managers, educators and volunteers from non-profit and civil society organisations, public local/regional authorities, educational, cultural or research institutions, towntwinning committees and networks that are active in the migration and asylum field.
General objective
To encourage the debate on migration and asylum policy at EU level through a bottom up approach involving civil society organizations and citizens.
Specific aims
To foster a lively and cross-border debate about EU policy related to migration, asylum and international protection persons among civil society organizations and citizens in Europe.
To promote opportunities for societal and intercultural engagement in order to kick-start a common EU migration and asylum policy.
To develop long-lasting networks between organisations active in the migrations, asylum and inclusion field from different EU countries and local contexts.
To increase further cooperation on cross-border issues related to migration, asylum and international protection.
Duration of the project: 14 months (1st December, 2014 – 2nd February, 2016)