Future Skills for Volunteering (FutVol)
Erasmus+ KA2
2017-1-FI01-KA204-034696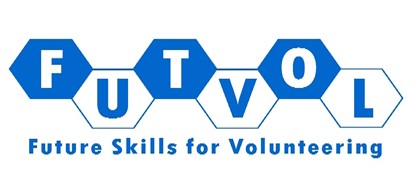 The Future Skills for Volunteering (FutVol) project sets out to address future skills challenges in the field of volunteering in Europe. It is designed in response to two European policy challenges for which European voluntary and other third sector organisations are not fully prepared:
The European Commission's recommendation on the validation of non-formal and informal learning (2012/C 398/01), which acknowledges the role of civil society actors in facilitating processes for the validation of non-formal and informal learning.
The EYV Alliance's policy recommendations following the European year of Volunteering in 2011: creating an enabling environment, enhancing quality, recognition of volunteering, and acknowledging its value.
Bringing together educational institutions, third-sector organisations and other actors from 10 countries (BG, FI, HU, IT, LV, PL, PT, RO, TR and UK), the FutVol project approaches these issues by designing and testing a new skills concept aimed for adult learners who are volunteers. The skills concept combines a set of defined future volunteering skills, peer learning and foresight activities.
In order to design and implement the new skills concept, the FutVol project shall:
develop and test a design thinking -based peer learning model to help volunteers acquire what are defined in this project as 'future skills';
design a tool for volunteers to observe and manage change in their everyday work using e.g. weak signal detection methods;
a future skills in volunteering skills concept that is aligned with the European Key Competences ofr Lifelong Learning with validation processes tools for the learning outcomes that will be tested by participating learners;
produce a publication 'Future Skills Guide to Volunteering', the aim of which is to combine grassroots observations of change in volunteering with expert insight on skills needs to raise awarenes across Europe.
As a result:
Adult learners (volunteers) will acquire a set of skills that they can use in many contexts such as work or formal education and learn about how their volunteering relates to European citizenship,
Partners and stakeholders will have a clear understanding of future skills needs in volunteering, documented learning outcomes for related learning processes and processes and their validation. This helps them in volunteer supervision and strategic planning.
Volunteer managers, volunteers and other third-sector actors have access to a peer learning model that can help volunteers and their organisations gain future skills and get to manage change in their environment. The model will give voluntary and other third sector organisations easy-to-use tools to be used for training, and the activities tested will yield new information about the future of volunteering on a grassroots level.
The "Future skills guide to volunteering" publication will help volunteers, partners and practitioners in the field understand skills needs and volunteer supervision and to plan their work accordingly.
Various other stakeholders such as decision makers can build on their awareness on issues affecting the voluntary sector, which will help them in developing infrastructure for volunteering in general.
The FutVol project also aims to raise discussion about the future of volunteering in Europe by engaging various stakeholders in its activities: learners shall as part of their learning process collect information about the future of volunteering at the grassroots level, and thepartners shall produce publications and organise two multiplier events each and joint webinars to reach experts and policy makers in the debate.
For the long term, the FutVol project works towards increasing the ability of voluntary and other third sector organisations to build their volunteers' capacities for understanding their learning needs to meet future challenges, and to provide a skills concept that is useful for learners and easy to adapt to many contexts.
Duration of the project: 24 months (1st September, 2017 – 31st August, 2019)